Review: Logitech G533 Wireless Gaming Headset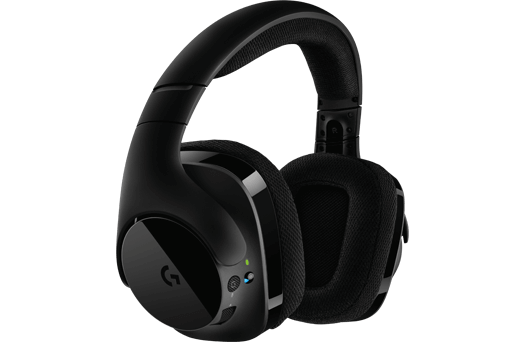 Logitech's G533 wireless gaming headset is a modest generational refinement of its G933 Artemis Spectrum cousin, boasting a streamlined design, superior comfort, and a considerably lower price.
The G533 basically trades some extra programmable buttons and the RGB LED lighting found on the G933 Artemis Spectrum for an improved microphone and more comfortable, better-fitting ear cups.
Feature highlights & specifications
The most notable improvement of the G533 over the Artemis Spectrum series is its ear cups, which are a little larger, rounder, and provide a more comfortable and more secure fit.
The ear cups also rotate 90 degrees, allowing them to rest comfortably around your neck if you need to remove them momentarily. Earcup controls behind the left ear cup include a power switch, textured volume roller, and a singular G-button (also textured), which defaults to muting the mic but can be assigned to nearly any function (including multi-key macros) using Logitech's Gaming Software.
The microphone is extendible, flexible, and includes a built-in micro-pop filter.  It auto mutes when it is raised and plays a tone indicating when the mic is muted or unmuted.
Logitech G533 wireless headset specifications
Pro-G™ Audio Drivers and DTS Headphone:X 7.1 Surround Sound Audio
DTS Headphone:X 7.1 Surround Sound
Lossless Digital Audio
15-hour battery life
Removable rechargable battery
90-degree swiveling ear cups
Memory foam ear cushions
Noise-canceling microphone
Auto-muting mic
Extendible microphone with micro pop filter
Custom Sound Profiles w/Logitech Gaming Software
2-Year Limited Hardware Warranty
SYSTEM REQUIREMENTS
Windows 10®, Windows 8.1, Windows 8, Windows 7
USB port
Internet connection for optional software download
Height: 7.76 in (197 mm)
Width: 7.44 in (189 mm)
Depth: 3.35 in (85 mm)
Weight: 12.34 oz (350 g)
G533 wireless comfort and design


Logitech G533 gaming headset (Credit: Logitech)
Comfort is highly subjective, but I found the G533 to be eminently better-fitting and a good bit more comfortable than the G933/633 Artemis Spectrum design. It's not quite in the same league as the SteelSeries Arctis or Siberia headsets in terms of comfort, but it's still very good.
The G533's ear cups are wide and roomy and definitely cling securely but comfortably. By way of contrast, I found he Artemis Spectrum series a bit prone to being easily knocked off (or slide off ) my head. (This was, however, probably the biggest complaint I had about the Artemis Spectrum, and it only rarely occurred.)
The G533's ear cup mounted controls are good and I've always appreciated Logitech's commitment to good design and usability characteristics. They are rarely afraid to choose form over function with regard to their gaming peripherals and often use textured surfaces, sculpted buttons, other refinements even if it sacrifices some aesthetics.
That said, I still miss the older G95-style design, which placed the ear cup controls on the outer part of the earcup instead of behind, a more functional design in my opinion. It's a shame Logitech has moved away from it.
G533 wireless performance
Audio quality is difficult to judge in any headset if only because it's completely subjective. In my experience, however, Logitech gaming headsets generally have some of the best audio quality and virtual surround sound available in a wireless headset. (At any rate, thus far I've yet to experience a Logitech gaming headset with poor audio.)
The G533 worked flawlessly across a range of games—mostly a bunch of Overwatch and a handful of others. Music playback was excellent. The G533 gives delivers plenty of thump in its bass, clear highs, and solid mid tones. The 7.1 surround sound does a remarkable job of simulating a larger playfield (it's a little weird, but impressive).
The microphone worked flawlessly (again used mainly for many Overwatch) in an occasionally noisy environment with a fair amount of background noise. I polled my teammates and most couldn't hear the extra background racket, which occasionally included rowdy idiot dogs convinced the approaching UPS guy was a murderer, and kids playing their own PC games chatting with their teammates. (Note that the dogs weren't in the same room. No amount of noise cancelation could stop that...)
An 11-channel equalizer allows you to customize the audio settings and store multiple EQ settings in different profiles. (I confess I kind of miss the voice morphing profiles that Logitech used to make available in older versions of their software.)
I don't particularly miss the lack of LED lighting, a sexy but generally useless feature in a headset. The 15-meter range is good only if you don't have intervening walls; otherwise, I lost connection after about 3 meters as soon as I rounded a corner and left my office.
Although wholly optional, the Logitech Gaming Software gives you many additional features. With it you can customize the function of the G533 sole G-button, assigning a predefined function or custom single or multi-key macro. Many of the predefined functions are general and not particularly useful for a headset, but if you're feeling mischievous you could assign it to ALT+F4 (close window/program) and watch the carnage.
Overall—Highly Recommended
The Logitech G533 wireless delivers very good comfort, excellent audio, and a rich range of software features. It's also now pretty reasonably priced at around $85 on the "street" (i.e. Amazon and other e-tailers)—especially compared to its $150 launch price.