Hi,
Arma 3 does take quite a bit GPU power... how much is the "Ultra quality Preset" ? according to
Tom's Hardware
the old Titan managed to get about 40 FPS.
The new Titan X is about 40% more Powerfull, Looking at the Crysis 3 Benchmark from Anandtech: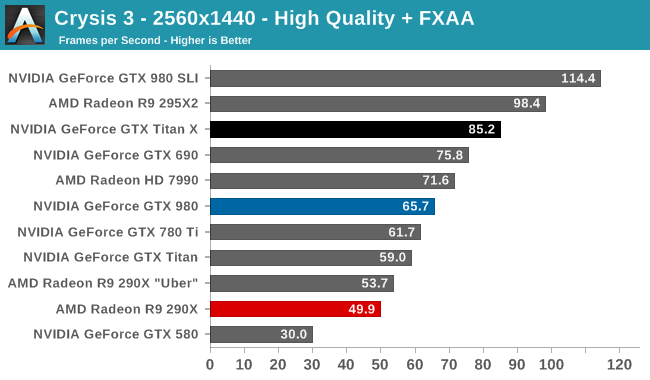 (and yet even there you can't use the 144hz of your Monitor to the fullest on high quality settings)
to run 3 Monitors you would need about 2.3-2.8x the Power of this.
If you intend to use the Monitor on ULBM mode with 85Hz that might work on Low to Medium settings on most new games.
Here you can see Project Cars in UHD TripleWide on 60Hz with 4x Titan GPU's
http://www.craveonline.com/gaming/artic ... 3-monitors
On a Single 1440p Monitor with a Titan X this one here seems to reach about 50 FPS, but i guess the settings are all cranked up.
https://www.youtube.com/watch?v=TcYcVURP_1Q
Here is a pretty good review about 4k Surround, You can assume that you will get about 40-70% Better Performance with a 1440p triplewide setup.
http://www.tweaktown.com/tweakipedia/76 ... index.html
So if you wan't to play in High settings you'd better think about SLI with 2 or 3 of these cards, if you're OK with lowering settings all the way down then a Single Titan X could might have enough performance. 144hz will probably still be out of reach for new games.
If you want high FPS and Triplemonitor you'd better keep an eye out for FullHD Monitors.